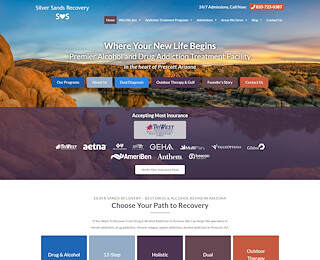 Alcohol, illicit drugs, prescription opioids, all these substances will quickly take a toll on you. To deal with addiction on your own is to risk aggravating your situation and burying yourself even deeper into the hole. At Silver Sands Recovery, we have the best solution to all of your problems.
Our programs of rehab in Arizona represent the peak in the industry, comprising a multitude of innovative and modern treatments. We're looking to not only eliminate withdrawal but to prevent you from relapsing in the long run. This means that one of our primary goals is to teach you how to evolve and become a new individual.
We achieve this goal by focusing on several aspects like:
Detoxification – The detoxification process is a must during the first stages of any rehab program. Without it, we wouldn't be able to eliminate withdrawal and control your cravings. It's also a good way of cleansing the body of toxins, which will allow your system to recover and heal. The detox process generally lasts around 14 days, depending on the severity of the manifestations.
Co-occurring disorders – We approach these problems during the detoxification process, and we continue to focus them throughout the rehab program. Co-occurring disorders usually appear as collateral problems, either worsened or caused by addiction. We consider treating them as being vital to advance your psychological recovery.
12-Step Addiction Treatment – The 12-Step Program focuses on restoring your mental toughness and determination. These are the critical attributes of a winner, and we want to teach you how to become one. Recovering from drug addiction is a struggle, a race for your life, and you need the best training program to help you achieve success and remain sober. The 12-Step treatment is that program.
Holistic healing – Our rehab in Arizona includes a variety of holistic activities as part of the recovery process. If cleansing your body and your mind represents the first stage of the recovery, cleansing your spirit is the next one. Our program of holistic healing will focus on restoring your emotional functioning and teach you how to experience joy once again.
Relapse prevention education – All our treatment methods lead to one goal: preparing you for a life of sobriety. The risk of relapse will remain high so long as you lack professional supervision and guidance. Our relapse prevention program relies on social reintegration, teaching coping skills, and controlling cravings in the long run.
We know that it's not easy to overcome substance addiction and regain control over your life. We've built our rehab centers to help people rediscover their purpose and their lives' meanings. You can read more about our rehab in Arizona on our website, or contact us directly in case you have more questions.
At Silver Sands Recovery, we welcome everyone in our family. Call in for an appointment, and we'll be waiting for you at our center! No matter how advanced your problems are, together, we'll figure out a solution.