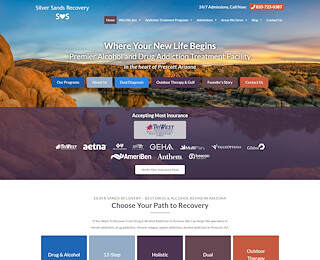 Drinking alcohol is not a problem in and of itself. But if you're experiencing symptoms associated with alcohol withdrawal, you need urgent help. Our team, at Silver Sands Recovery, is ready to assist you as soon as possible. We always urge people to avoid self-treating their addiction, since it can cause a lot more problems than it can solve.
Alcoholism is a mental disorder that can evolve into dramatic stages. Our program of alcohol rehab comprises the most modern essential treatments into one intricate and comprehensive system. We believe that alcohol rehabilitation is a complicated process that should focus on lifelong results, rather than relying on immediate gratification.
We've built our rehab program around three essential concepts:
Eliminate the physical and psychological addiction
Prevent the relapse
Change people's values and lifestyles
We have created and adopted this system because we have seen how difficult it was to treat substance addiction. With the latest advancements in medicine and psychology, however, things have changed considerably today. Despite that, many rehab institutions still use incomplete rehab procedures which will affect the effectiveness of the program.
For this reason, we approach the situation differently. In our view, the disorder itself is not the only problem that needs solutions. As alcoholism progresses, it will cause a variety of issues along the way. Here we include behavioral changes, family problems, the inability to keep a job for too long, etc. To reverse and prevent these problems, we use rehab programs like:
Detox and Dual-Diagnosis – The detoxification process is a vital part of the alcohol rehab program. It allows us to control and eliminate withdrawal, control your cravings and address other mental disorders you might display. The Dual-Diagnosis treatment is also essential in identifying and treating collateral psychological problems, which may impend your recovery in the long-term.
Holistic healing – The notion of holistic healing is not as popular among rehab institutions. Only the major ones use it, as it encompasses a variety of high-end procedures. It all relies on the link between the body, the mind, and the spirit, aiming for a wholesome experience that will change you to the core.
The 12-Step Program – This program's purpose is to define your personality and your set of values. Most victims of alcohol addiction lack the confidence and the mental strength they need to change their lives. Some of the leading specialists in the world have contributed to building the 12-Step Program, and you will immediately see the results.
Relapse prevention and education – Now you no longer need to fear relapse. Although it's common with most victims of drug addiction and alcoholism, we'll make sure it won't be a problem for you. We're striving to not only help you overcome your problem but remain sober over the years. That's how we define a successful alcohol rehab treatment.
If you need immediate assistance, you need to contact us, at Silver Sands Recovery. Make an appointment, and we'll immediately get you ready for rehab! You can change your life for the better with the help of a simple phone call!