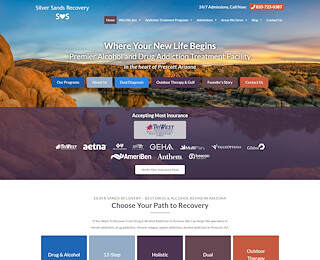 Silver Sands Recovery is a premier drug rehab in Scottsdale with several positive reviews and a low relapse rate. Most people wait for their substance abuse disorder to worsen before seeking help. Fortunately, we offer comprehensive treatment for mild and severe addiction cases with astounding success rates in both cases.
What Insurance Plans Do You Accept?
We accept all major insurance plans. Some of the insurance policies we accept include Aetna, Bluecross Blueshield, Tricare, Cigna, GEHA, Multiplan, ValueOptions, and, to name a few.
What Kinds Of Outdoor Therapy Do You Offer?
Some of the outdoor therapies we offer include basketball, golf, softball, hiking, equine therapy, etc. We customize our outdoor therapy programs according to our patients goals, needs, and preferences. 
How Do You Treat Dual Diagnosis Disorders?
Some of the therapies we rely on to treat dual diagnosis include cognitive behavioral therapy, dialectical behavioral therapy, rational emotive therapy, adventure therapy, animal-assisted therapy, meditation, yoga, etc.
Do I Need Medical Detox?
In case of moderate-to-severe addiction disorder, medical detox is pivotal to help you attain a safe and speedy recovery. Medical detoxification cleanses your body and prepares you physically, mentally, and emotionally for sobriety in the long term.
How To Prevent Relapse In Recovery?
Relapse is common in recovering addicts in the first 6 – 12 months after leaving a rehab center. Signing up for ongoing care programs at your treatment center can strengthen your commitment to sobriety in the long term and help you lead a healthy lifestyle. As one of the top rehab centers in Arizona, we keep an eye on our alumni clients with our ongoing care programs.
How Long Does Addiction Treatment Last?
Addiction treatment can last for anywhere from 30 to 90 days or more, depending upon your treatment needs and the progress you make in recovery. Speak to a treatment provider at a drug and alcohol rehab nearby to understand your addiction's severity and the type of treatment you need to achieve comprehensive recovery.
Why Choose Silver Sands For Recovery?
We offer highly effective long-term drug rehab options for those suffering from mild to severe addiction disorders. Our customized treatment approach ensures personalized care to each client and helps them attain holistic recovery from their behavioral and mental health issues.
How Long Does Medical Detox Treatment Take?
Medical detox can take anywhere from 7 to 10 days. Individuals battling severe addiction disorders may need up to two weeks to detox safely from their substance abuse condition.
Do I Need Addiction Treatment?
If you cannot reduce or quit alcohol or drug use, you may have an addiction problem and require treatment. The same solution stands if you find yourself in dangerous situations when intoxicated or avoiding social gatherings or events to do drugs or consume alcohol. In this case, seeking Arizona addiction treatment at the earliest is key to smooth and safe recovery. 
Your search for the best drug rehab and detox facility ends here. Call 833-723-0387 to verify your insurance with Silver Sands Recovery. We are top-rated drug rehab in Scottsdale with holistic treatments and 12-step programs. Our highly skilled team of therapists offers personalized care and individual attention to our recovering addicts and guides them towards sobriety and improved mental wellness.